My Top Three Artists Right Now
Like many people – but maybe more than most – music has been a huge part of my life. As a music producer, I spend a lot of time listening to a wide range of music genres and familiarizing myself with various artists.
From hip-hop, to rap, to electronic dance music (EDM), to pop, and everything in between – a wide collection of artists and their influences have provided inspiration for ideas and sounds to explore. If you've had the chance to listen to any of my music, you may have picked up on some of these influences.
In the spirit of honoring some of my favorite artists of 2021, I wanted to share a few names that I feel are bringing the absolute best in their respective fields right now.
So with that, I bring you: Avard's Top 3 Music Artist for 2021"
Ludacris
Starting off the list – this rapper may be in the top five right now – but he is without a doubt my favorite rapper of all-time. From his earlier days in the late-90's, to the big glow-up in the mid-2000's, to now arriving at a near legendary status of hip-hop, "Luda" has been killing the rap game since and has made an undeniable impact on the industry.
I should note that Ludacris isn't just a personal favorite of mine, his talent has been recognized through the sheer number of chart-topping hits he has produced over the years. To date, he has put out 8 long-play albums, countless hit-singles, and collaborations with the biggest names in music: Justin Bieber, Fergie, Ciara, Jason Aldean, Kanye West, and more. If you were alive on this planet in 2004 – you undoubtedly heard "Yeah" with Usher and Lil' Jon.
Not only can he make great music, but he has been making a strong move into film as well – proving he's a double-threat in terms of entertainment.
Krewella
Krewella brings something different to the table and produces a range of sounds that everyone can enjoy. You may not have heard of this band, but they have been blowing the minds of music lovers for years.
What's the best way to describe Krewella? I could tell you that it's a blend of the hard-hitting drive of EDM and dubstep, with the soaring vocals of Pop goddesses – but you should really check them out for yourself and do so as soon as possible.
From a standpoint of music production, Krewella is almost second-to-none. They are highly technical and put subtle details into their music that your average ear might not even recognize. These elements come into play and translate especially well in a live setting, in fact, a live show might be where Krewella shines best. Their performances are on a whole new level.
I absolutely love their work and they have certainly been an influence in the tracks of CheerMusicPro. Getting lost in their rhythms is easy and the beats take you to so many different places.
David Guetta
Even if you aren't a fan of EDM or "techno," you have probably heard of this French artist as he has really taken off in recent years. In my opinion, he is the person responsible for bringing these types of music into the mainstream across the globe.
He has put out an endless stream of chart-topping anthems such as "Titanium," "When Love Takes Over," and "Memories." He has also collaborated with popular artists like Sia, Kid Cudi, LMFAO, Nicki Minaj, and several others to make instant EDM classics. As far as his general sound, I'd describe him as being more melodic than hard-hitting, but the powerful beats are definitely strong elements of a Guetta track.
I think Guetta sets a standard for music that vibes and he has certainly been a major influence in my journey as a music producer. He is a true pioneer and has brought so much innovation to the field.
Missy Elliot
I know that this list was supposed to be a "Top 3" – and in no particular order – but I couldn't name a group of my favorite music artists without giving a shout out to the one and only Missy Elliott.
What else can I say? What else NEEDS to be said? Missy "Misdemeanor" Elliott is a name that needs no introduction. She brings talent, innovation, and an unmatched lyrical style that has earned her a reputation as an uncontested icon in hip-hop and R&B. You have surely heard the international hits like "Work It," "Get Ur Freak On," "Gossip Folks," among others – but Missy has been around since the early 90's and has a full discography that I would recommend.
She is directly responsible for making room for female artist groups in rap and R&B. For those who might not know, Missy Elliott was officially inducted into the "Songwriters Hall of Fame" a few years ago – a justly deserved recognition and making her the first female rapper to carry the honor.
Apart from her legendary work in music, another thing that I admire about Missy is that she goes out of her way to bring good vibes with everything she sets out to do. I have had the pleasure of hanging out with her in-person and can confirm her personality is as impressive as her music!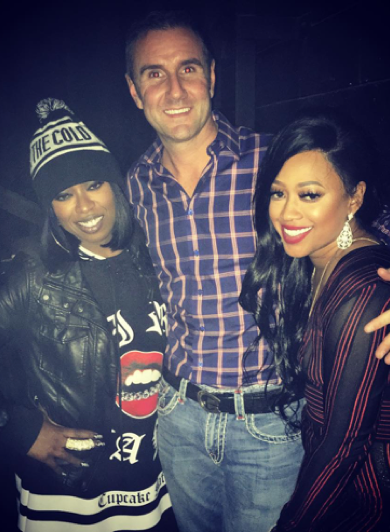 Patrick Avard with music icons Missy Elliott and Trina – 2015