Patrick Avard: Thoughts on National Cheerleading Week
Hello friends,
I hope everyone is having a great start to the year! We're heading into spring, which is one of my favorite seasons and also marks a time for many exciting things to keep on the radar. As the weather heat's up – so does the sports world. I'm not just talking about March Madness either (although a definite area of interest of mine) – the cheer community in particular has a lot to look forward to as we come up on some of the biggest events and competitions of the year
You may also be interested to know that the first week of March is nationally recognized as annual National Cheerleading Week, which shows just how much interest is out there for competitive cheerleading as a growing sport. For me, it's a great way of honoring the incredibly talented athletes who perform in this space and reminds me how fortunate I am to produce music for teams and cheer programs in a wonderful community. With that, allow me to share some thoughts I had in the past week, and why this year's National Cheerleading Week symbolizes so much this year!
Multiple Times to Celebrate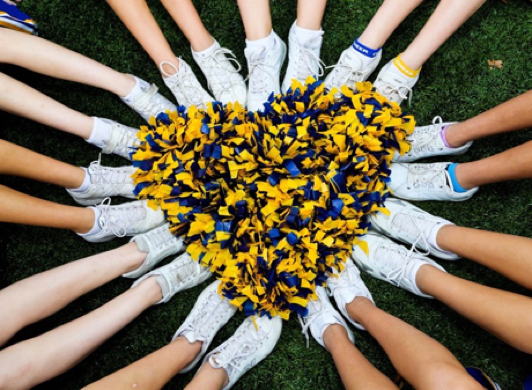 Not to be confused with National Cheerleading Day (Sept. 12), National Cheerleading Week has been around since 2005, when Linda Lundy founded the occasion. For those unfamiliar, Linda Lundy is a former cheerleader, coach, as well as the Texas State Chairperson for the US Aerobic Association and even the choreographer for the Jr. Japanese Gymnastics Team.
National Cheerleading Day started in 2015 and gives another opportunity for cheer enthusiasts, athletes, or influencers like me to give credit where credit is due, while helping spotlight the sport and its participants on a national level. And since the entire sport of cheerleading is about spreading positive vibes – we in the industry never turn down another reason to celebrate! This especially true this year as we rebound from the COVID-19 pandemic.
Surviving AND Thriving
Speaking of the pandemic – if there's any year to celebrate and recognize the hardworking athletes, coaches, and gyms, it is this year. In fact, it was almost exactly 365 days ago when the world first started to feel the effects of COVID-19. As many in the industry remember, we were looking forward to a full schedule of competitions and practices, all which ended up being cancelled due to the pandemic. Eventually the itch to compete overtook many athletes nationwide, as we found creative ways to put our skills to the test, either virtually or outside and in-person with one other under health guidelines.
It has been both a hectic and difficult year for everyone in the industry. But now, as we head into 2021, we appear to be trailing away from "the new normal" and back to the world we have all missed dearly. Throughout this time, we have witnessed a sense of community and comradery like never before and it has been very inspiring to see so many people involved with our sport contribute to keeping positivity running strong.
As we celebrate cheerleading and come together for the season's biggest events – let's keep up that energy and show the world what cheer is all about!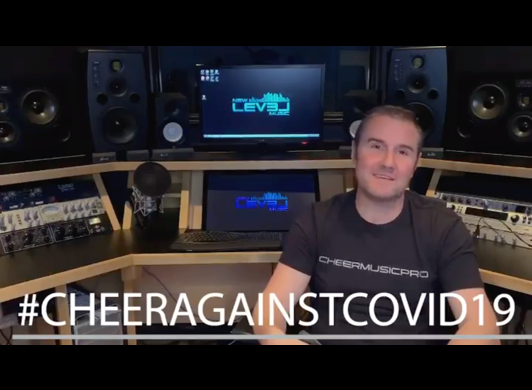 A message from Patrick Avard (aka CheerMusicPro) – launching #CheerAgainstCOVID19 to keep the cheer industry active during the pandemic. (Instagram:
@CheerMusicPro
Motivation for Music
On a personal level, the resourcefulness, dedication, and passion shared by members of the cheer community over the past year has fueled my own creativity in producing music as CheerMusicPro. The community has been inspiring, and tremendously encouraging – even spurring me to develop not just one, but TWO, all-new albums for both coed and girls-only teams! But I know that I am not the only one. This season's competitions have featured draw-dropping showcasings that prove teams across the nation have put in the work to take routines to a "new level."
I know we'll be carrying this inspiration throughout the remainder of the year. It is amazing to see just how far we've come and how much we've overcome. Let's continue to stay excited, stay curious, stay sane, and stay safe. Whether that means time spent in the studio for me, or time in the gyms for teams – let's focus on how we all came together to lift each other up on and off the mat
Until next time,
~ Patrick