It's Ski-Season. Time to Hit the Slopes
Although I spend a lot of time in the production studio making music, one of my favorite hobbies is to head to the mountains and ski. If you've never felt the feeling of flying down a ski slope with insane views and fresh mountain air, you've got to try it. There is no better way to get away from it all!
But if you've never skied or snowboarded before, it can all feel pretty overwhelming. I thought I'd share some pointers for anyone who has ever thought about the hobby but might not know where to start.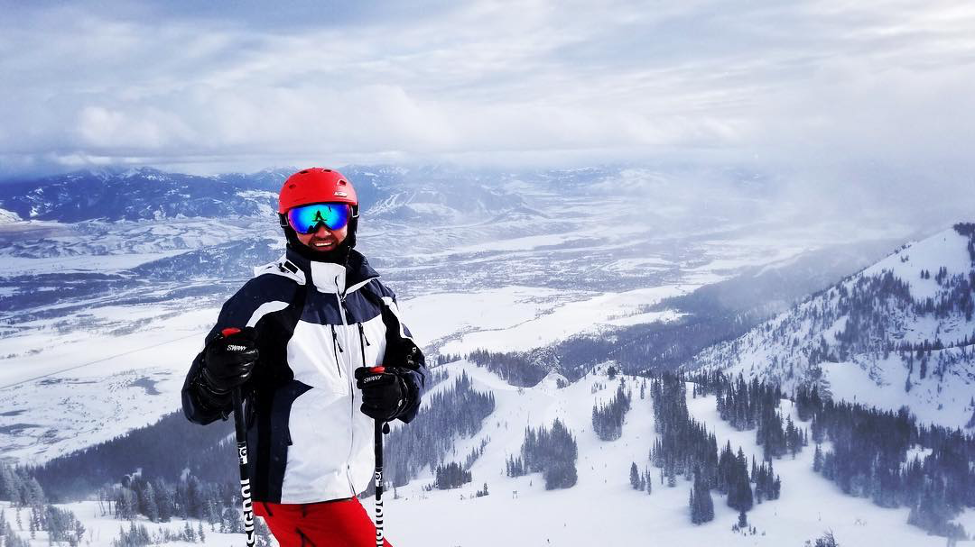 Checking out the views of Jackson Hole, Wyoming.
Like most hobbies, skiing is a skill that is developed over time. At first, some people may be intimidated by the size of the mountain, the heights of the ski lifts, the fear of falling and of course, or the cost. But I promise, you can overcome all these fears and concerns. Just start small.
If you spend just a weekend learning the basics, you will quickly see these aspects are not as intimidating as you first thought. My recommendation would be to make weekend plans to visit your nearest ski mountain. You can even take beginners' classes with instructors who teach at a comfortable pace. You can also rent equipment and try to borrow ski clothes (like a jacket, ski pants, goggles, ski gloves, etc.) from a friend. It doesn't have to be a huge investment. If you really develop a passion for it, then you can invest in your own equipment and plan a trip to a bigger mountain.
For anyone who might already have a little more experience with skiing, here are "Patrick Avard's Top 3 Ski Mountains":
Telluride, Colorado
Starting off the list are the famous mountains of Telluride, Colorado – where skiers all over the world come to enjoy the ski runs and second-to-none views of the Rocky Mountains.
Telluride Ski Resort has been a favorite destination of mine for several years to get away from it all, both figuratively and literally. The town sits about 2.5 hours from Grand Junction, Colorado, and more than 4 hours away from Aspen, Colorado – so you'll most likely want to fly directly into Telluride Regional Airport.
But once you arrive, there's simply no comparison to the amount of fun you can have with your friends or family, no matter the skill level. Of the 127 various ski runs, about 25% are designated for beginner levels, with another 36% for intermediate. Though for those who love a challenge, 41% of the runs are reserved for advanced skiers.
Snowbird, Utah
A little more accessible, Snowbird Ski Resort sitting just outside of Salt Lake City, Utah is another favorite mountain area to spend some time in. This range is also divided into a mix of difficulties – with about two-thirds of the 169 runs placed into the beginner to intermediate categories.
This is a great place to build up your skills and enjoy another range of the Rocky Mountains year-round. I believe the longest continual run is more than two miles, with a "vertical drop" of around 3,000 feet. (That's just ski-talk for the tallest hill available to go down.)
What's great about Snowbird is that you can also use your trip to visit Salt Lake City. Salt Lake is a very nice and often-overlooked city with great dining options and nightlife venues. Although people tend to forget it's there, I'm sure the locals don't mind as they get to keep it all to themselves.
Jackson Hole, Wyoming
If you ever find yourself in Jackson, Wyoming – you will undoubtedly hear about or visit the city's impressive Jackson Hole Mountain Resort. The mountain falls along the Teton Range of the Rocky Mountains and is known as a rather difficult range to challenge your skiing abilities. This particular range is not really recommended for beginners, but more for dedicated skiers and snowboarders.
At its highest point, Jackson Hole stands at more than 10,000 feet, and the range features more than 4,000 feet of downward skiing. The longest run is 4.5 miles! But aside from the continuous slopes, the views are equally as rewarding.
Just Do It
If you're interested in skiing or have even thought that you might like to try it someday – my advice would be to just do it. Trust me, you'll be glad you did and who knows – maybe you'll discover a lifelong hobby that can lead you to great times and amazing friends. I know it did for me.
I'll even see you on the slopes!
~ Patrick Avard (CheerMusicPro), Atlanta, Georgia